окрестности
Thermal Park Bešeňová
Thermal Park Bešeňová has 6 pools year round. Water temperature is 30 to 40 °C and has beneficial effects on physical, uroligical and respiratory organs problems. An unforgettable experience is swimming in an exernal pool opened in winter. In the Termal Park, except swimming you can also enjoy relaxing massage.
www.besenovanet.sk

Aquapark Tatralandia

Aquapark Tatralandia is the largest water park in Slovakia and Central Europe. The park is the center of water relaxation and fun. Available are swimming pools, which offer many attractions: a relaxing water massage, gargoyles, fountains, a water swing, streams, a climbing wall with a waterfall and children's slides. Colorful slides have different shapes, lengths and difficulty. For the perfect relax, it is prepared a sauna world with several types of sauna, spa tubes, massage showers, solarium and much more. Thermal water in Tatralandia, with the temperature 26 °C to 38 °C, has beneficial effects on physical and respiratory system. www.tatralandia.sk
Liptovský Mikuláš
Liptovský Mikuláš is a turistically famous and popular city. It offers you a number of sites, which you can bring the history of this region. You will find there St. Nicholas´ Church, the Museum of Janko Kráľ, the Slovak Museum of Nature Protection and Speleology, Gallery of P. M. Bohúň and Synagogue. Moreover, in the center there are several stylish restaurants, pizzerias, cafes, pastry shops, bars and night clubs.
www.mikulas.sk
Žiarska Valley
Žiarska valley is one of the most famos and the most frequently visited valleys in the West Tatras, especially for its suitable location, accessibility and beautiful views from altitude more than 2000m. It is located near Liptovský Mikuláš.
Demänovská Cave of Liberty
It is the most beautiful and most famous stalactite cave in Slovakia. It has an interesting system of tunnels on several levels, each interconnected by halls, varied and rich karst decoration and with many lakes. Remarkable is Rose Hall with 6 m high stalactite waterfall. Through Cave flows underground river Demänovka. The cave is 8126 m long. The total stretch is open to 1800 m.
www.ssj.sk/jaskyne/spristupnene/demanovska-slobody


Demänovská Ice cave
In the 18th century, it was known as the Dragon cave according to the findings of cave bear bones, which mistakenly considered as a dragon. In the lower parts of the ice cave, there are beautiful stalactites and waterfalls. Best ones are in Kmeťovo house. The cave is 1,750m long, accessible trail has a total length of 850m. The air temperature is in range from 0 °C to 5 °C.
www.ssj.sk/jaskyne/spristupnene/demanovska-ladova
Važecká Cave
At the edge of a village Važec, there is Važecká Cave. Its lenght 530m belongs to the smallest caves. Accessible trail is 235m. Its decoration represent stalactites, stalagmites and beautiful flowstones. Inside cave, there is a rich snow-white flowstone decoration and an amazing palentologic findings of cave bears bones. Važecká Cave is included in biospeleological localities of the European meaning.
Tatra´s Comet
Take a ride from Porad to Tatranská Lomnica with a historical trolley from year 1912. It will be definitely an incredible experience.
Liptovský Ján
Village Liptovský Ján is a well known and a popular place with pools and thermal water. You will find there an area of ​​summer thermal swimming pools, indoor swimming pool, pool 50m long, 2 children's pools and an idle pool. Thermal water has proven medicinal effects. From the village, there are very good possibilities to hiking in the beautiful Jánska Valley.
Vlkolínec
Folk Architecture Reserve entered into the UNESCO list.
www.vlkolinec.sk

Svätý Kríž
Svätý Kríž (Holy Cross) Village is located near the dam Liptovská Mara and the town Liptovský Mikuláš. Holy Cross is known wooden articular church, one of the largest wooden churches in Europe. It was transferred there during the construction of Liptovská Mara in years 1974-1982 from the flooded village Paludza. In 1774, the church was rebuilt by master carpenter Joseph Lang, who could not read and write, created this project for eight months to the current style. The church seats up to 600 people

Tourism
Liptov offers to lovers of hiking many marked hiking trails and footpaths. Beautiful is Prosiecka and Kvačany valley. Directly from the hotel, you can take a hike to the Cottage below Červenec, Babky, Sivý vrch, or Roháče. Very nice are trips to Low Tatras or West High Tatras, which are not far fom Liptovský Mikuláš.

Downhill skiing
In Liptov, you can find most ski lifts and slopes in Slovakia. The most popular resorts is Jasná - the Low Tatras, which is distant from us only 19 km. Another well-known center is the Ski Park Ružomberok. Not far are also the High Tatras and Štrbské lake.
www.jasna.sk, www.skipark.sk/, www.dolinky.szm.com/areal.htm

Rafting
You can enjoy this modern sport on the river Belá, Váh or in rafting area at the edge of Liptovský Mikuláš. Rafting is a sport by which you will forget your sorrows, try your abilities in the form of overcoming the water barriers, jumps and rapids. According to the choice of trace difficulty, rafting is good for families with children, groups or experiences rafters.

Paragliding
The Low Tatras are the ideal place for one of the most popular and available adrenaline sports, paragliding. Try the pleasure of flying with a wonderful view. You will undergo a half an hour flight with an experienced instructor with altitude 600m. It is an incredible experience.


Liptovská Mara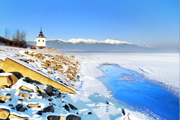 Water reservoir Liptovská Mara is by its heigh the second largest earth dam in the Slovak Republic. It offers a wide spectrum of possibilities for water sports, for instance swimming, surfing, yachting, rowing and fishing. During the summer season, a view boat Liptov is regularly running from autocamp Liptovský Trnovec. Its capacity is 60 seats